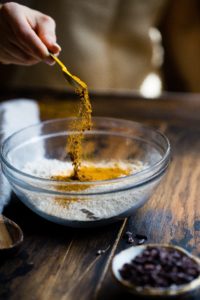 Having practiced Chinese herbal medicine and acupuncture for 20 years now, it is always interesting to me when conventional medicine "discovers" a new natural treatment.  One of the most popular heavy hitters on the supplement scene in recent months is turmeric, also referred to sometimes by one of its active constituents curcumin.  I thought it could be a fun exercise to look at the conditions for which turmeric has been prescribed for thousands of years, compare that to our known research, and see if we've discovered anything new at all!  Then I'll share with you the turmeric product I am currently using in the clinic and how you can benefit from it.
The Chinese name for the herb turmeric is yujin and jianghuang, depending on the part of the plant utilized.  It was traditionally prescribed for: pain, arthritis, digestive disorders, liver disease, anxiety and depression, and skin disorders (acne, ulcers, etc.).
Now, let's take a look of the summary of turmeric (curcumin) research from PubMed, the largest government medical study library.
Click here for summary of published research.
What do we see?  The research backs up every one of these traditional indications!  Plus, it seems to have some incredibly promising anti-cancer properties, probably due to its strong anti-inflammatory nature.  And, unlike NSAIDs, it actually protects your liver and stomach!
Turmeric (curcumin) is a powerful standalone supplement, however it was traditionally prescribed with other herbs which help its efficacy and absorption.  That is what we offer here at Origins Medicine.  The ability to seamlessly combine thousands of years of traditional medical knowledge with the latest in evidence based scientific medicine.
The supplement world moves fast and we are constantly evaluating and updating our recommendations based on the very best products in the market.  My current favorite curcumin product, which I use daily in the clinic can be found here.
You can use discount code: DFH50641 to save 25% on your first order!
You'll notice that many of the supplements I recommend are from Designs For Health.  They are a family run, extremely high quality brand.  But, because of their stellar reputation there have been some issues with counterfeit products on Amazon, so please only purchase through their Amazon page or from our Origins pharmacy.
For general inflammatory issues try 1 – 2 capsules per day.  Remember that it is always important to discover the source of inflammation in the body, so please use this powerful herb in conjunction with a lab based program to correct your health.  Also, curcumin is best used in conjunction with synergistic herbs for specific conditions.  To learn more please contact our office.
In Health,
Duncan Macdonald, L.Ac.