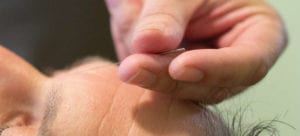 It's time to beat stubborn pain!
We are excited here at Origins Medicine to announce that we are now offering Motor Point acupuncture.  You will sometimes hear this referred to as Dry Needling in the medical world, however it is far more sophisticated than the Dry Needling sometimes employed in physical therapy. . Motor Point acupuncture is a direct way to stimulate specific muscles to show the brain the contracted and relaxed end points of the muscle, reduce muscle inhibition, restore proper function, and reduce inflammation.  
Although the basic techniques are described in Chinese Medicine classics from over 1000 years ago, Motor Point acupuncture has had a resurgence in last few years with the addition of electrical stimulation.  It is now commonly used by professional athletes to keep them in the game, as well as by the general population who suffer from chronic or acute muscle pain.
So, if you are struggling with any type of chronic orthopedic pain issue, even if it hasn't responded to acupuncture in the past, I'd encourage you to come into the clinic and try this exciting new technique!  I was personally trained by both Dr. Richard Hazel and Dr. Anthony Lombardi and I've included a few videos below to demonstrate Motor Point acupuncture is applied for some common issues.
Knee Pain:
Back Pain: